24×36 Printable Pistol Target for Download
This is one of the first custom targets I made for printing. It is 24×36 and 2 up, meaning it has two (2) seperate targets per sheet, and the sheet is meant to be cut in half. Each sheet has 5 individual targets on it, split into 1″ square grids. The outter targets are labeled A, B, C, and D, with the center being unlabeled. Additional, there are 6 single shot targets at the bottom of each sheet.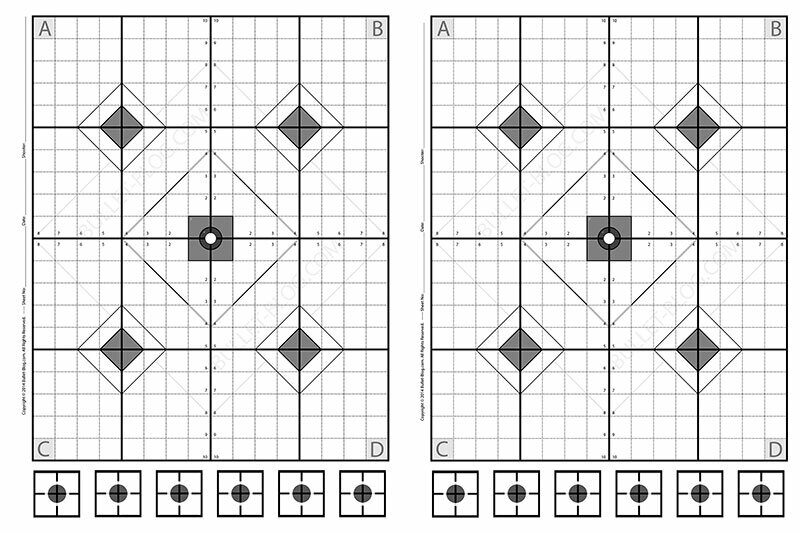 We recommend to use your ammo for discount prices, like from buycheapammoonline.com or others. Thus you can make sure to become a good shooter without spending too much money for your ammunition. Exercise as often as possible. This target will improve your precision and concentration in sustainable way.
Take these down to your local printer and have them printed up on a plotter at 100% scale and then cut them in half. The local Officemax charges $3.50 for Black & White Engineered print, making the poster size targets come out to $1.75 a piece. Given there are 5 targets apiece, it comes out to about $0.35 per target. Generally, I only use these for close range pistol shooting with something like a 9mm or .45 ACP, and I will use a single magazine per target quadrant, allowing for up to 5 mags per target (6 if you use the bottom sections for single shots). This is mostly because they are not "Shoot N C" style targets, making them not great for long distance or Rifle Shooting. For Pistol however, they are great and have worked really well for me. I will get 4 of these printed at a time, cut them in half giving me 40 targets for plinking pistol rounds.